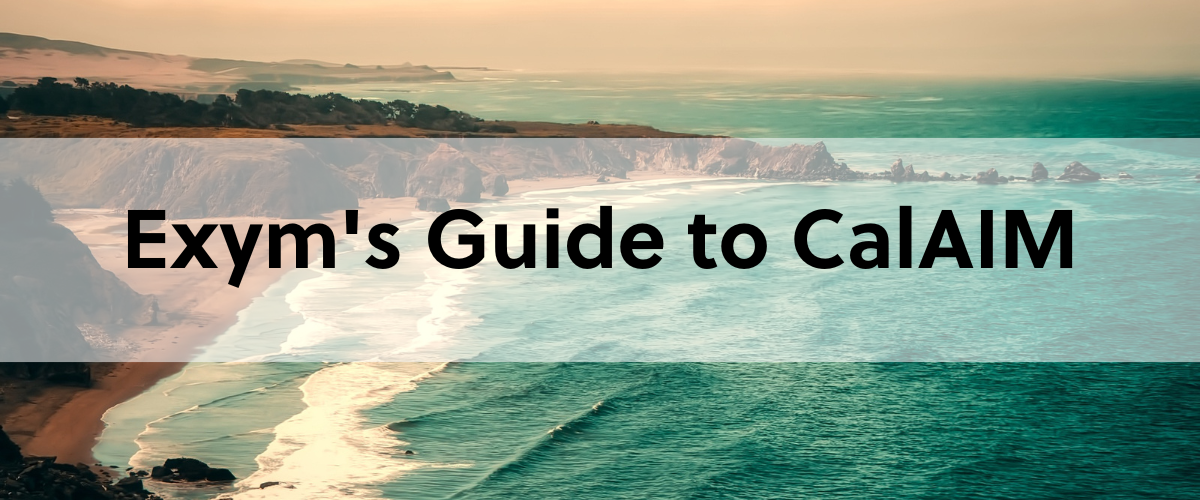 CalAIM Overview
California Advancing and Innovating Medi-Cal (CalAIM) is a multi-year initiative by the State Department of Health Care Services (DHCS) to improve the quality of life and health outcomes of Medi-Cal beneficiaries. Assembly Bill 133 allows DHCS to implement CalAIM before updating the California Code of Regulations.

CalAIM's goal is to improve access to care, streamline administrative requirements, and modernize the Medi-Cal payment methodology. The state has been slowly rolling out CalAIM information and requirements over the last few years. Sometimes, behavioral healthcare providers feel that they do not receive information about required compliance changes with enough notice, leaving agencies across the state scrambling and stressed. Exym is committed to making the transition as smooth as possible. We have been providing regular product updates and hosting User Groups, Town Halls, and Q&As for our customers. Since the DHCS released information about CalAIM in 2019, our team has regularly met with state and county officials to stay on top of changes and deadlines. We are proud to share we have never missed a compliance deadline.

We invite our customers to join our team of experts in our upcoming billing event. You may register for this webinar event using the link below.
1/9/24 - Billing Ask Me Anything, 12:00-1:00 p.m. Pacific Time
If you'd like to sign up for additional CalAIM email communications, fill out the form below.